Are You Lonesome Tonight? by Norah Jones - 3.64 MB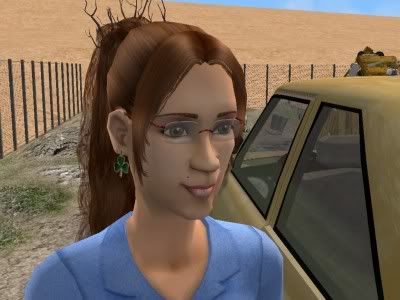 Hey, here I am reporting in for the third week. If I look happy in this picture, I am. I just received the good news I got promoted again.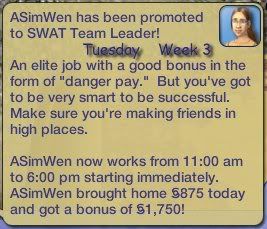 Yep, I am now on the swat team. Well, the news from this promotion made me feel good for only a little while. Everybody managed to stay alive this week, but moods were starting to get pretty low.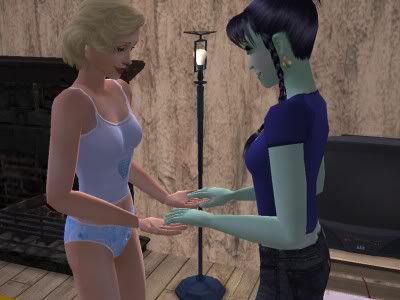 Things started out pretty normal, despite Jennifer's death last week. The residents have started different passtimes to spend time together since Jennifer is gone. They can no longer play chess together since there is only chair. The game of choice has switched off from rock-paper-scissors to red hands and punch me. Dern, Marilyn and Joy found this to be fascinating.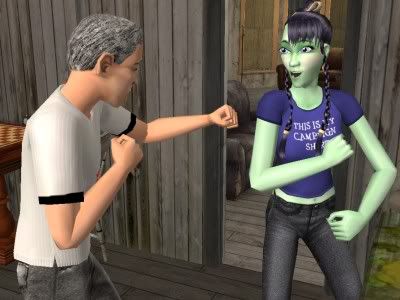 Seems like Joy is the instigator to keep things interesting, keeping interactions going. That is what I paid her to do here.





Worries started setting in. Now Freddie not only has the limited facilities to worry about in the bathroom, but now he also endlessly worries about finding a significant other. I feel so badly for him.





Even my love muffin is worrying. I cannot get really close to him right now. I have decided to limit my interactions with him because he distracts me from my goal: To become a Captian Hero.





Things started breaking down this week. Well, the shower and the toilet broke down the first couple of days here. Like I said before, I haven't bothered fixing those. Everyone gets a kick out of mopping up the bathroom floor. But I couldn't take the kitchen sink flooding the kitchen floor. It took me a while of banging on the sink with a wrench, but I finally fixed it.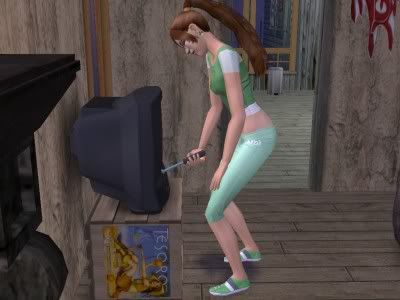 I got brave and decided to try and fix the TV too. Boy, what a mistake that was!





The thing gave me quite a shock! I had to eat something before cleaning up. I was nearly starvin'!





I over heard Pretend President George and Harry havin' a discussion. George was trying to get Harry to believe that everyone had been handcuffed and brought to the Cretin against their wills.





Harry told him there was absolutely no justice in that. How could people be held against their wills?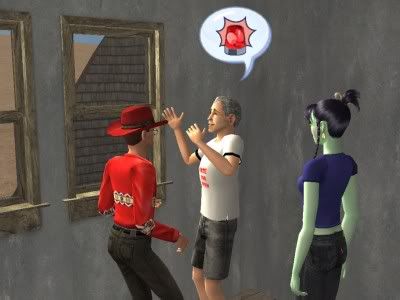 George said, well maybe the cops would arrest the Guys who were responsible for being so mean and putting everybody in here behind these doors.

This made me feel really bad. I have done what ever I could with the materials I had to work with. The residents have a really nice chess board, beds, and a bass guitar. I guess there is only one thing I should be doing.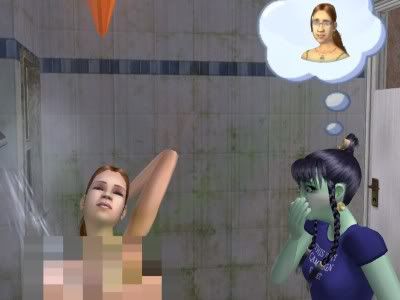 Joy tried to tell me whilst I was takin' a shower. She did look a little stressed, but I didn't pay her any mind. She seemed to want to tell me something, but I let it go over my head.





Joy started showing the same low moods the rest of the people here were showing. I was so wrapped up in trying to get promoted, I didn't pay attention to her. It was as if I lived alone...





Right about that time, Harry did get a great mood boost. He completed a self study course on the bass guitar. That made him happy for a while.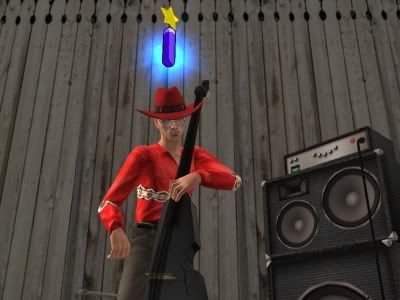 Maxed out creativity skill.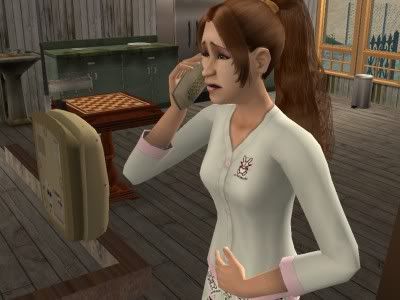 I started feeling sick and calling off work. Maybe I wasn't doing well in the emotional department either. It was affecting my stomach.





Harry and George got into another discussion. The started talking about the fire that killed Jennifer. I guess they were more concerned about it than I thought. I thought they had just forgotten all about her.





Well, I should have known better than to get my hopes up. The only thing George could say about it was good thing we weren't all in a high rise building, or we all could have gotten trapped on the upper floors and killed.





Norma Jean started up her shenanigans again with Harry. Her female sense kicked in when she realized I was easing off spending time with him. But it was hard for me to be mad at her.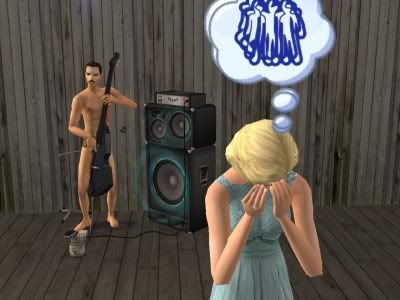 She was only looking for a little comfort. The lonely bug had bitten her too.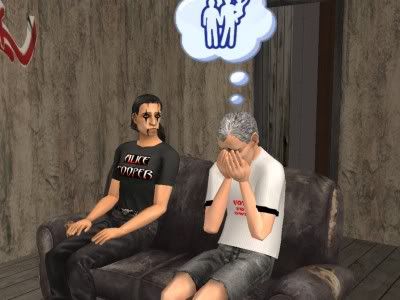 Pretend President George was not immune.





Even crazy Alice Cooper was showing the signs. Everyone was feeling really down in the dumps. It strengthened my resolve to make Captain Hero.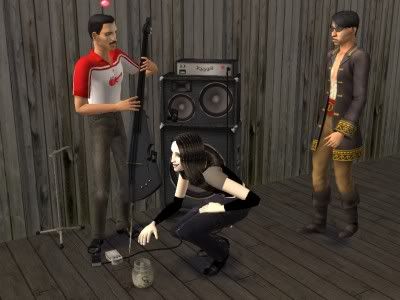 Freddie started takin' his turn on the bass guitar. Here Cassandra Widow from Wen's unblogged Black Widow Challenge gives Freddie a nice tip, while Harvey Howdyschell from the ISBI Challenge looks on.





Freddie actually started singing a song...in a pure and sweet simple voice.....

*clears throat*

"I've paid my dues -
Time after time -
I've done my sentence
But committed no crime -
And bad mistakes
I've made a few
I've had my share of sand kicked in my face -
But I've come through!"

Wow! I was amazed....Freddie was actually singing something that didn't have the beat of Davey Jones in it. I was intrigued. Maybe I would get to hear the whole thing sometime...

Until next time!