Suicide Is Painless by Nick Drake - 2.64 MB




Hullo. It is me again, ASimWen. I guess I will update you on my second week here at the Cretin. I thought everything was going well. I have been exercising to build body skill for my job in Law enforcement. I had worked myself up to the Vice Squad last week. I found out I needed to really get my bod in shape if I wanted any more promotions. I started giving that treadmill a workout.

The other residents of the Cretin have been doin' their thang. Mostly entertaining themselves somehow, since nobody other than visitors or myself seem to know how to turn on the TV. If I don't turn it on in the mornings before I leave for work, well. You can only imagine what the residents will do to entertain themselves.





Of course we know about pillow fights. Here Alice and Harry become best friends whilst playing. Harry makes Alice's 5th best friend. He got 10,000 aspiration points!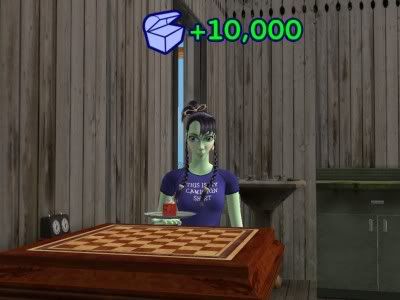 Joy got her 5th best friend somehow. Although I don't see anybody around her talking to her. Hm. She must be talking to someone off the range of the spy camera. This happened while I was at work.

Gad, those two got their 5th best friend before I did. After all, I have to spend time at work...while they don't.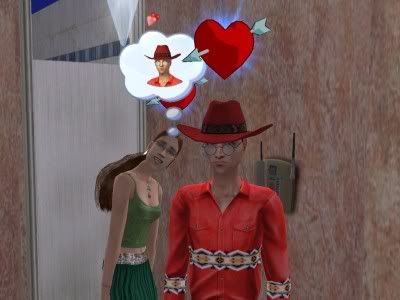 Despite the hugging episode Harry had with Norma Jean last week, I still can't keep myself away from Harry. We fell in love this week. I just go GAH-GAH around him. Maybe one of these days we can really get together.





I finally made my fifth best friend with Joy. I really needed the aspiration boost 'cuz I was starting to fall behind with job promotions. I only got two this week. Now it is getting harder 'cuz the skills are more demanding. It will take some time.





One of the things the residents do is play rock-paper-scissors. I never knew it could be some much fun. I played it alot as a child.





More rock-paper-scissors! Dern, I need to look into that!





Everything was normal though until Friday. Even though I had left cookies out on the counter for my charges to nibble on that morning, Jennifer decided to cook herself a grilled cheese sandwich anyway. The stove caught on fire an hour and a half before I was due home at 4 pm.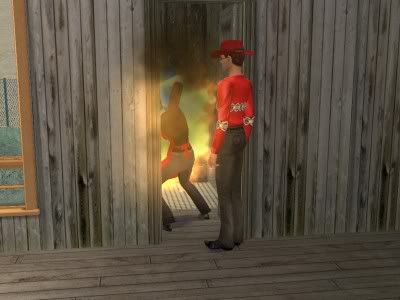 Poor Jennifer. She was so panic stricken she couldn't think. The first to arrive on the scene was my beloved Harry.

This was part of my strategy for the challenge. The stove was placed in a small room by itself only two blocks from the door. A side door leading to the outside is off to the left in the photo. As you will notice, Jennifer is blocking the doorway so no one else can get in. Luckily, everyone panicked out in the main kitchen area, and didn't think to run outside to the side door to get in to join the the fire dance.






Next was Norm Jean. Wow, the spy cameras worked great. I got to see everything that happened.





Joy arrived to help Jennifer, but there was nothing she could do.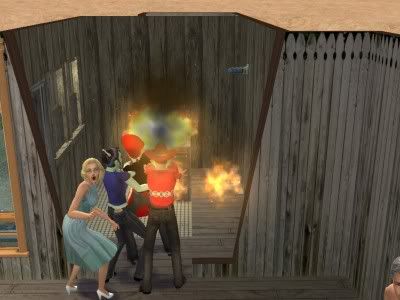 This picture breaks my heart. Norma Jean unkowningly looked right into the spy camera with a bescheeing look on her face. It made me cry. By this time after about an hour, the fire started to spread.





Harry was finding the entire episode really tiring.





Jennifer got too close to the fire and caught her apron strings on fire. I knew she was a gonner. By this time the stove had burned to ashes.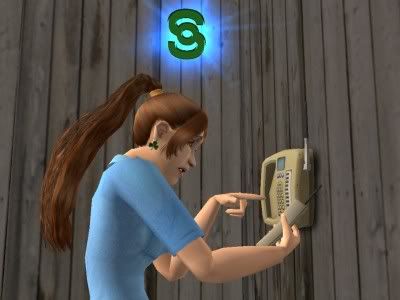 I finally arrive home and immediately call the fire department. I had big news but it had to wait. I had earned §10,000!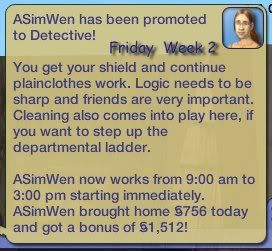 And I had earned my next promtion!





I also brought a friend home.... ASimWen Version 1, my cousin who also lives in Other Challenges town. She recently appeared in Rachel's Odd Couple Challenge.





See me in the background there to the left of the photo? I am on the phone. I was too late. Grim came for Jennifer.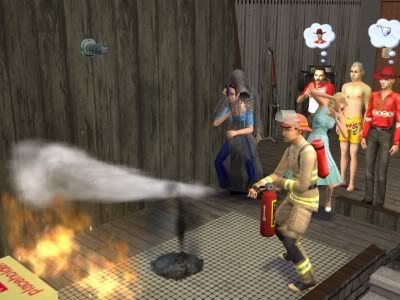 I have got to talk to ASimWen about this. How it feels to have Grim take over your body for a few seconds. She managed to run into the room somehow while the fireman and Grim was there.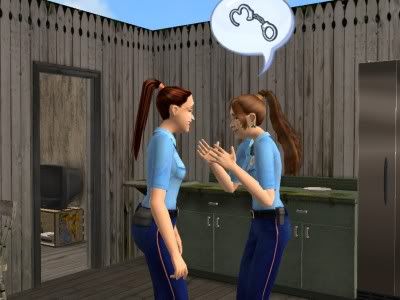 After I cleaned up the mess from the fire and got a new stove installed, me and Wen talked shop. We compared our techniques on how we arrest bad guys.





Then we got to talking about one of my favorite subjects....Harry. *sigh* She agreed he was dreamy too.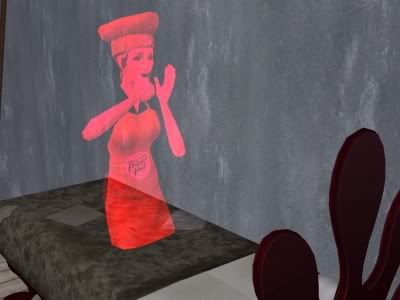 Jennifer didn't lay in her grave in the back yard very long. She haunted the next night, Saturday night. She only scared one time...Joy. Heh. Well, Joy responded by promptly peeing her pants. Freddie was right on it cleaning it up as soon as Joy ran inside to shower. That Freddie is a cleaning machine!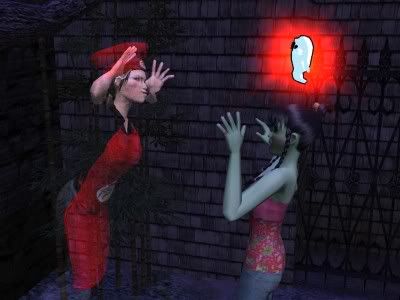 Heh. I never seen anything so funny in my life. But it made me miss Jennifer.





That evening to lift everyone's spirits, I decided to throw a house party. Here Heloise Howdyschell from the ISBI Challenge comforts Freddie. He told her all about Jennifer's firey demise. Heloise responded with tellin' Freddie all about her mother's eaten by flies death. Heloise survived it. She assured Freddie he would survive the loss of Jennifer.





Life is slowly going back to normal. I don't curtail the use of the stove from the residents. Why? It would only make things seem even more wierd. I just try to keep plenty of food out on the counter when I am not home. Here Alice is cooking his favorite thing, toaster pastries.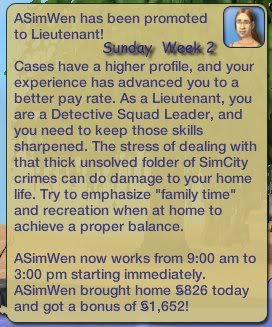 We end this week with another promotion for me. I am on the seventh level now of my career. The promotions will come slower now. But I am workin' on it.

See you next time!