Eh, yeah it is me, ASimWen. I thought my reporting was over, but the Editor says..NOPE....you have more of your story to tell. So I am here to tell it. If you will recall, in my last report I had worked my way up to Captain Hero. I now protect the good citizens of Other Challenges Town. Freddie gleefully sang We Are The Champions...well...because he and all the other residents were released from the Cretin. Yes, they were given a clean bill of health.

The deed to the Cretin was given to me. I was pleased and surprised. This was part of my reward for the work I had done here. I decided to fix the place up. I only had about $30,000 to work with. Not much, but me and my Roomates who decided to stay stretched it.


Clickable Thumbnails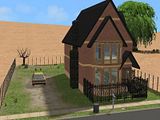 Firstly, we took all the boards off the broken windows, and put new brick siding on. Then we painted all the trim. We cleaned up the yard, and planted some grass. Well, this is the dessert, so the grass isn't comin' in really strong. But it is better than the dirt and rocks we had out here before.





We started redoing the inside. The kitchen was first. We have a pretty yellow in there now, with yellow/white linoleum. :) Very cheery.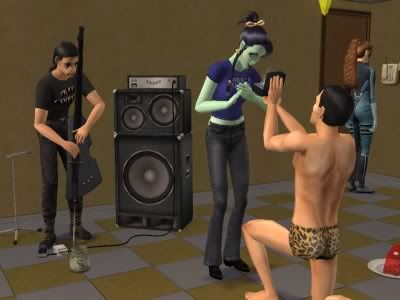 Oh yes, I do want to say at this point, we had made a grevious error about Freddie. He is in fact...NOT GAY. As soon as he learned of his freedom to leave the Cretin, he asked Joy to marry him and move away to start a new life. She agreed! They are very much in love with each other! We were all very surprised! Check out a little movie of their video we made. We had their wedding the first night in the house after we remodeled everything.


Wedding


George was upstairs sleeping, and somehow his snoring got on our film! Oh well, that is the 'real' us!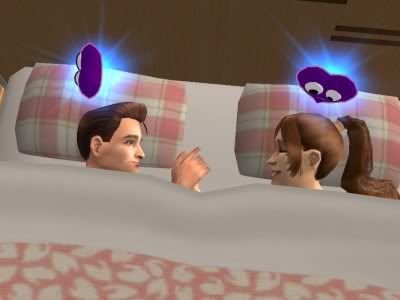 Harry and I finally got to consumate our love. We bought new bedroom furniture from Glamour Town and gave it a good workout that night.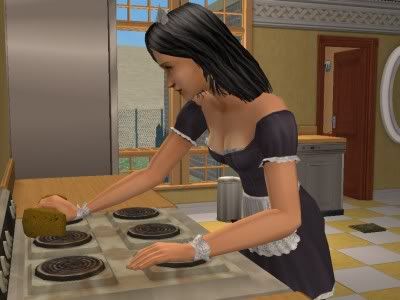 We hired a maid. No more scrubbing the counters ourselves and cleaning up. Now we can be our true sloppy selves.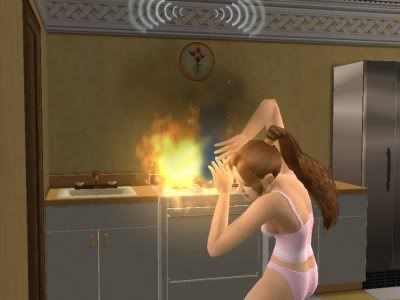 I was so worried about fires before. We have had a record number of fires since we remodeled. I set the stove on fire making breakfast the next morning. I had installed a fire alarm, and Niel the fireman came and put it out before any damage was done. Thank goodness.





Here is a picture of my bedroom...sorry, the light is out. Heh. Me and Harry are in bed snoozing. This is my treadmill...and the fireplace. I redid all the walls and floors upstairs.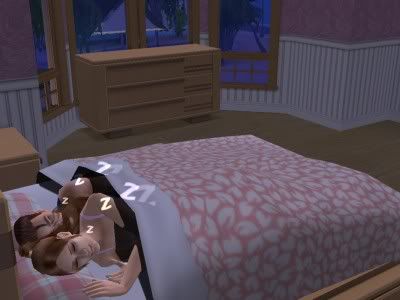 This is the other side of the room, a great shot of the new furniture we bought.





Remember that tiny room the stove was in by itself? It is now a lead room to the outdoors, and a bathroom beyond. We keep the computer and chess board in there.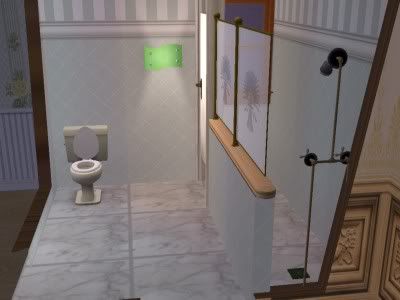 This is the remodled bathroom. Gawd, remember how awful it was before? We still have the communal shower, but we ended up tearing out the separating wall, put in a half wall and new tile floor/walls. It is so nice.





This is Norma Jean and Alice's bedroom. We call it the green room. They have decided to stay on with us. Alice got a job as a Mascot. Norma isn't working. My gawd, something happened to her. I will tell you about it momentairily.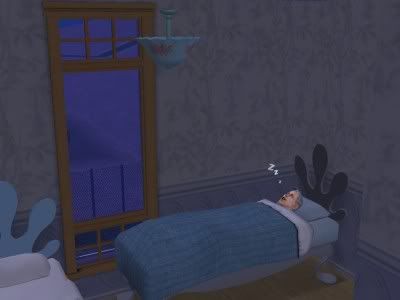 This is the blue bedroom, where George likes to sleep. Yes, he is staying on too. But he hasn't gotten work yet. He says he is tired. Now we have an extra bed since Freddie and Joy moved out.





This corner in the living room is where we used to have the loveseat where we would sit and watch the cooking channel. Doesn't it look different?





Here is our eat in dining set. Yes, we got this in Glamour Town too. The painting came from TSRVille. See that open door to the right? That is where we added a half bath.





This is the hallway upstairs. We used to fall asleep here!





Erm, did I say Freddie wasn't gay? Heh. I found these two in me and Harry's bed after Freddie and Joy's wedding. Now I am wondering who in this house is gay!





It was a sad day when Freddie and Joy left. Well, I suppose that is selfish. It was a happy day for them!!





I mentioned fires before? Well, George thought he could make Crepe Suzette. He set himself on fire! Leave it to George to figger out a way to start a fire without using the stove.





But like Neil did for me, he ran right over and put George out. So thank goodness we still have him.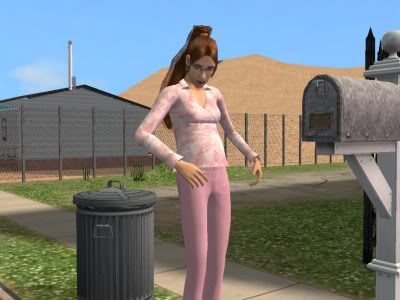 Well, that is all the remodeling we have done so far. Now for the gossip. A few weeks after everything had calmed down, I found out I was pregnant. According to what the doctor said, I must have gotten pregnant the first night in the house after we had changed everything. I didn't know how to tell Harry. Being a Romance Sim, I knew he wouldn't want to get married.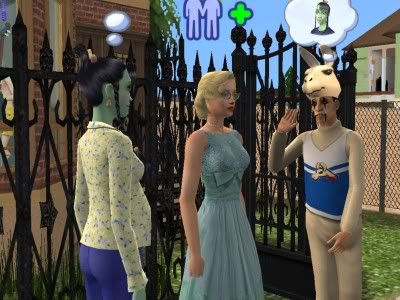 Joy came over to visit occasionally. She had gotten pregnant too, on her wedding night. Probably the same night as I did! Alice is stuck in his job as a Mascot. He really wanted to be a Captain Hero like me. I know he is unhappy. There seemed to be a chilly silence between him and Norma Jean. It probably is tough to find out somebody you liked alot is not of the preferance you are.





It was only a couple of days after that, we all found out what was wrong with Norma Jean. She was pregnant too! When we asked her if she was gonna get married...she said no.....she really didn't want to tell us who the daddy is. So we wonder. It looks like me and Norma's baby is going to grow up together.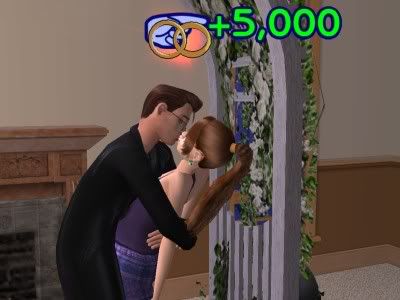 I had completely misjudged Harry. I broke the news to him about our impending arrival, and he declared we would marry immedietly. And we did. He seemed very happy, he received a big aspiration deposit. Despite the red rings.





So, here we are. This is a picture from me and Harry's wedding. The three of us ladies...former roomates, now all pregnant at the same time. And some of our men in the picture with us. My oh my.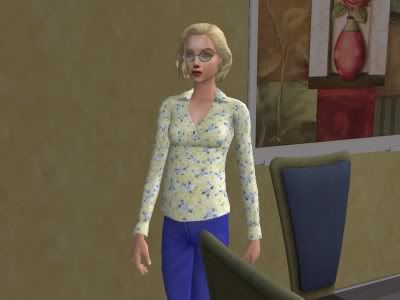 And what about Norma Jean?